5808
The Fencer (Miekkailija)
Synopsis
This is touching a 1950s-set drama about love and a man who finds meaning in his life through the children who need him. Endel Nelis is a young man who leaves Leningrad to escape the secret police. Arriving in Haapsalu, Estonia, he finds work as a teacher and founds a sports club for his students, teaching them his great passion - fencing. But Endel is faced with a hard choice when the children want to participate in a national fencing tournament in Leningrad.
Film Credits
Producer:
Jörg Bundschuh
Ivo Felt
Kaarle Aho
Kai Nordberg
Starring:
Piret Kalda
Ursula Ratasepp
Märt Avandi
Hendrik Toompere
Hendrik Toompere Jr.
Liisa Koppel
Joonas Koff
Kirill Käro
More Information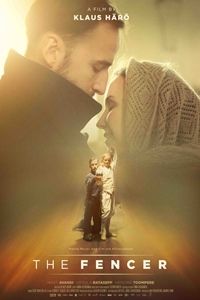 Rating:
PG
Parental Guidance
General viewing, but some scenes may be unsuitable for young children. A PG film should not unsettle a child aged around eight or older. Unaccompanied children of any age may watch, but parents are advised to consider whether the content may upset younger, or more sensitive, children.
Country:
Finland, Estonia, Germany
Language:
Russian, Estonian, Armenian