97646
Brawl in Cell Block 99
Synopsis
S. Craig Zahler (BONE TOMAHAWK) returns with his sophomore feature, BRAWL IN CELL BLOCK 99. An exhilarating exercise in analog violence, CELL BLOCK follows the brutal exploits of a former boxer who finds himself incarcerated after a drug deal goes wrong. Trapped in a maximum security facility, he must fight to stay alive and to protect those he loves.
Film Credits
Producer:
Jack Heller
Dallas Sonnier
Starring:
Udo Kier
Don Johnson
Vince Vaughn
Dion Mucciacito
Marc Blucas
Rob Morgan
Jennifer Carpenter
More Information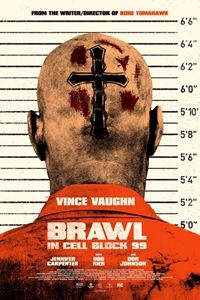 Rating:
18
Suitable only for adults
No one younger than 18 may see an 18 film in a cinema. No one younger than 18 may rent or buy an 18 rated video work. Adults should be free to choose their own entertainment.
Genres:
Action/Adventure
Suspense/Thriller